2022 VW ID Buzz | PH Review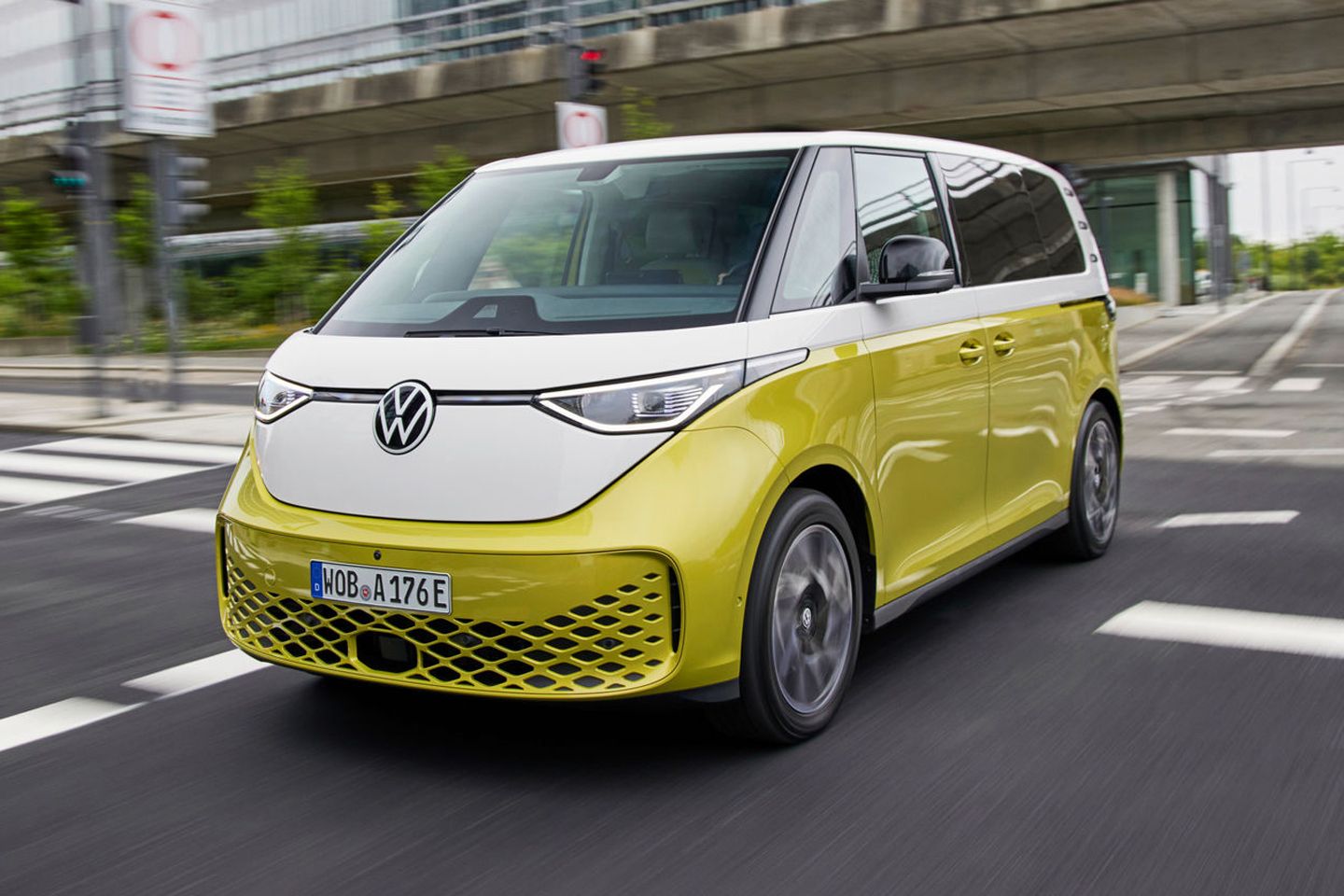 By the standards of VW Campers, we didn't really test the ID Buzz properly at all. One very dedicated (and presumably single) member of the development team spent 64 nights in a Buzz as part of its sign-off, covering 25,000 kilometres in the process. We didn't overnight with it anywhere, ferry family to the seaside, lug supplies about or forego festival glamping for a night in the new VW. So the real camper assessments will have to wait a little longer. But we can tell you plenty about what the ID Buzz is like to drive.  
Some will say that's largely irrelevant to the buying process. After all, there are people out there still willing to spend tens of thousands on campers that struggle up mild inclines. It's the lifestyle image that you're projecting from behind the white wheel that's far more important (and we'll get to that). Nevertheless, building the ID Buzz as an electric van from the MEB toolkit is a significant move for VW. It promises SUV driving dynamics with the comfort of the latest EV – and even though those attributes sound more appealing the other way around, it still promises a huge leap forward in ride and handling over conventional vans and campers. Even the electric versions already out there are typically adapted from ICE platforms – with all the compromises inherent to those conversions – as opposed to dedicated electric load haulers.  
As a reminder, every ID Buzz offered in the UK will be powered by the 204hp electric motor familiar from the ID 3 and ID 4, itself supplied by a 77.4kWh battery. New for the Buzz is the ability to charge at 170kW, which ought to save a few precious minutes on the way down to Newquay. The WLTP driving range is 258 miles, the top speed is 90mph and the 0-62mph time is 10.2 seconds. Because it weighs 2,486kg. Still, going fast was never the camper way.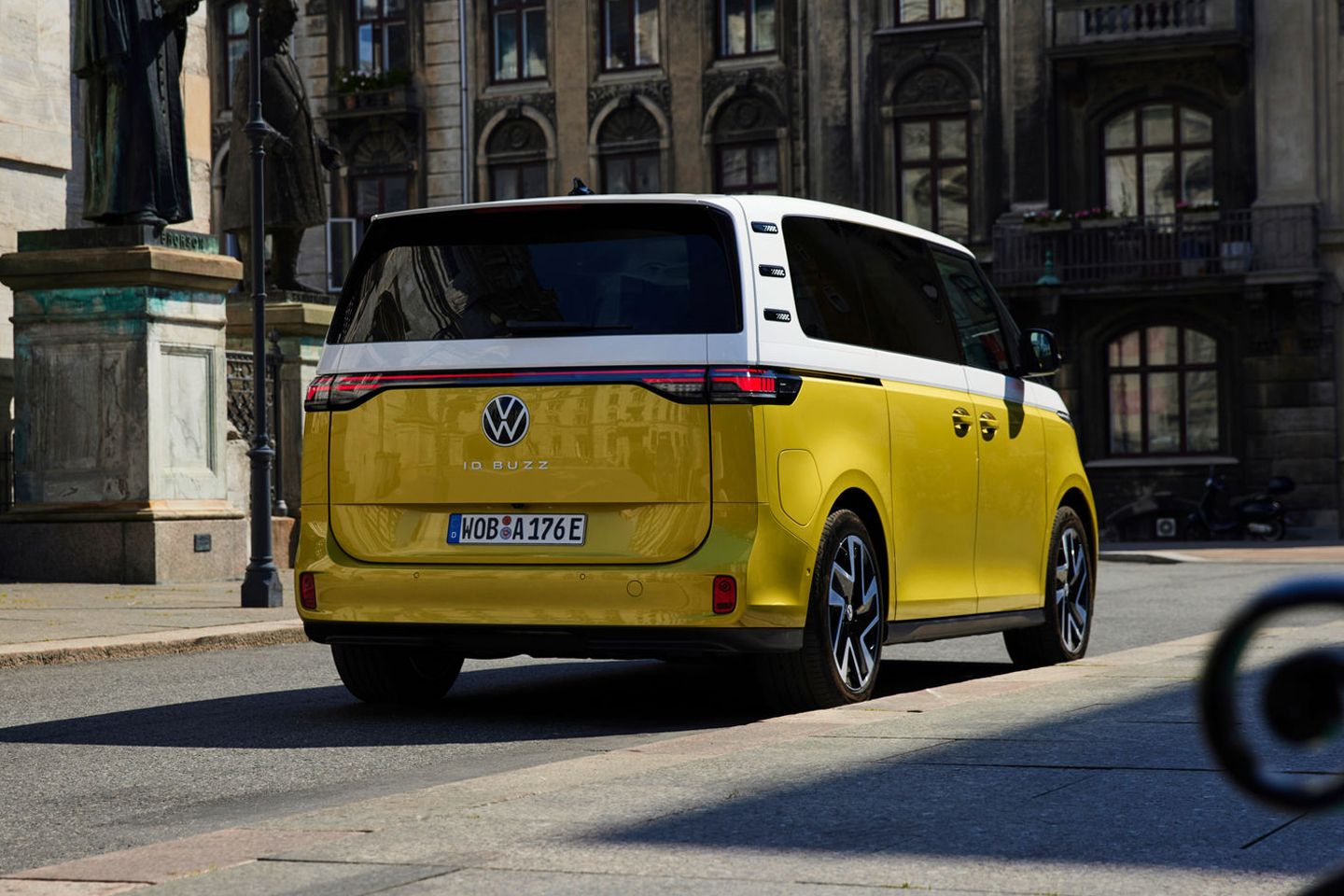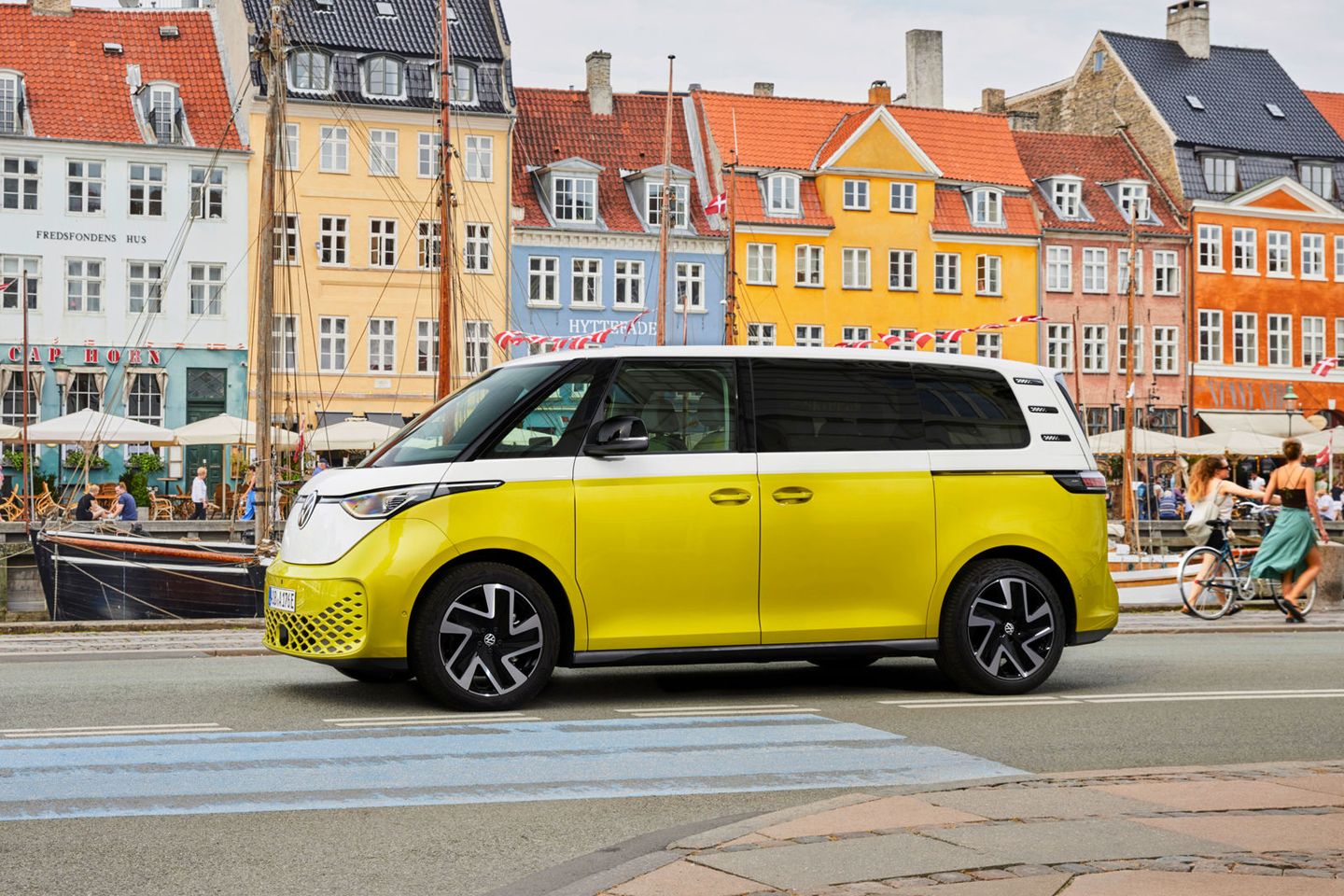 And all of those stats ignore the ID Buzz's most compelling trait – it looks absolutely brilliant. It could weigh four tonnes and reach 62mph in 20 seconds and it's doubtful many would care because they'd just want to be seen behind the wheel of an electric VW van. Seldom has a new car garnered such favourable affection from passers-by as well as the notoriously fickle automotive media in attendance to drive it. There are welcome cues from campers of days gone by (with a huge VW badge, two-tone colour scheme and 'vents' at the C-pillar) combined perfectly with the fresh and exciting look of the 2017 concept. Without trading too heavily on the past, the Buzz couldn't be anything but a VW bus. With both ID 3 and ID 4 perhaps a little too staid for their own good, it's nice to know that VW can still deliver a great piece of design when needed. Expect plenty of friendly conversations at charging stations if you turn up in one.   
How does it drive? Broadly speaking, very well indeed. All of these MEB-derived vehicles, from Enyaq to e-tron, have an uncanny ability to mask their (often considerable) kerbweight, and the same is true here. From behind the wheel and in a very car-like driving position, you'd guess at a big hatch weighing hundreds of kilos less, such is its ability to turn into a bend, grip and change direction. This would be a decent driving electric car, so feels revelatory for a van and van-based camper that were on fairly agricultural underpinnings not so long ago. Obviously that's the benefit of that modular architecture. Even on the big 21-inch wheels offered, the ride is more than acceptable, though 20s feel like a more sensible compromise if you can accept a less stylish bus.  
Don't underestimate the appeal of an electric powertrain, either, especially in the Buzz Cargo van. We're all too familiar with bemoaning the demise of great combustion powertrains, but nobody will want to go back to any kind of diesel after dealing with a clogged city in an electric van. The silence and lack of vibration makes proceedings less stressful, the instant response of the throttle further aids confidence – not having to worry about transmission pick up or turbo lag – the turning circle is small and regen braking is a boon in slow-moving traffic. In fact, a more severe setting beyond the 'B' available on the gear selector would be useful as well. Whether three-point turning in the farm shop or manoeuvring on site, it's hard to imagine any buyer of any kind of Buzz begrudging the move to electric. Especially with such a great view out as well; with no engine ahead now, driver and passenger are right up front like the good old days. Well, as far upfront as can be while still being safe.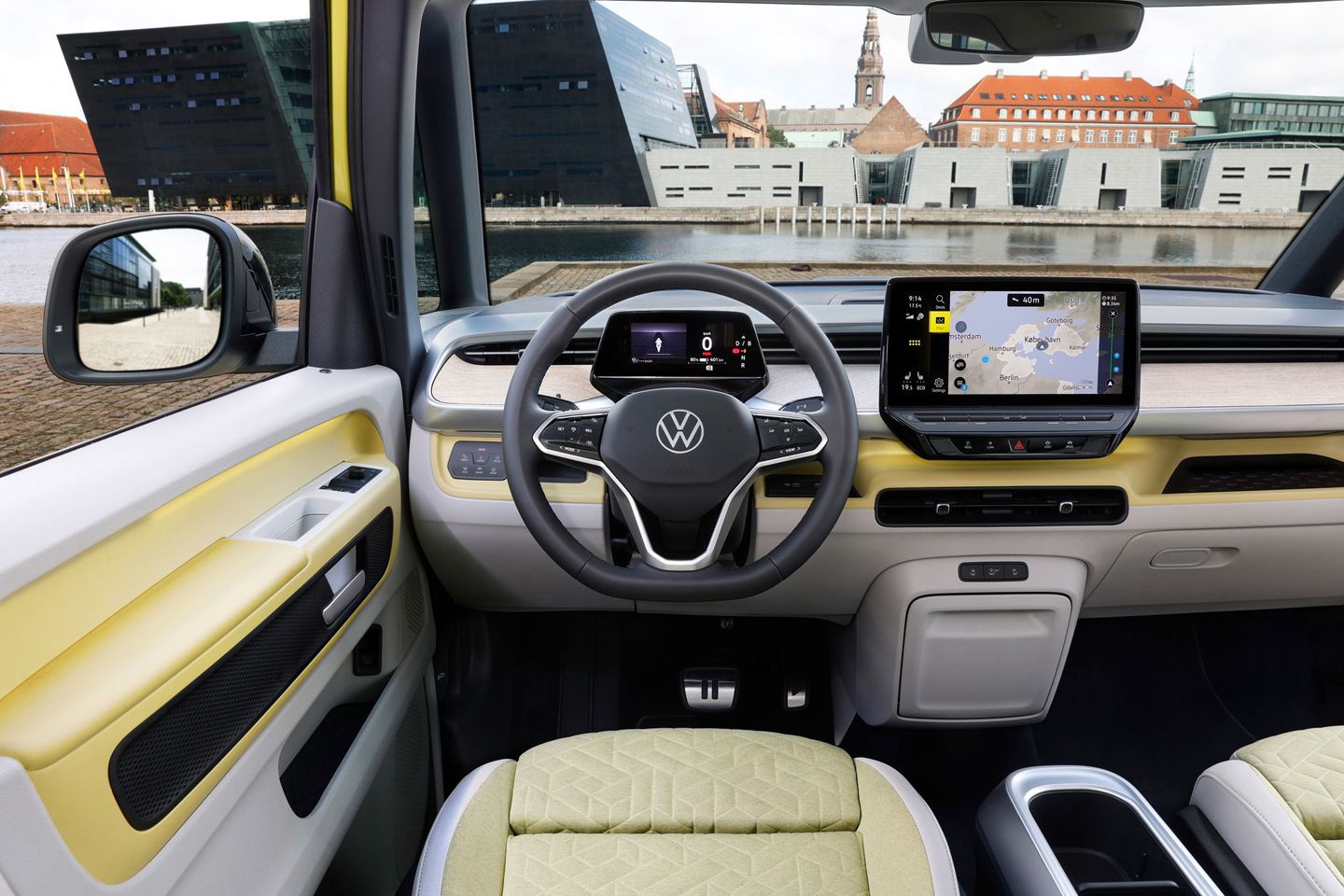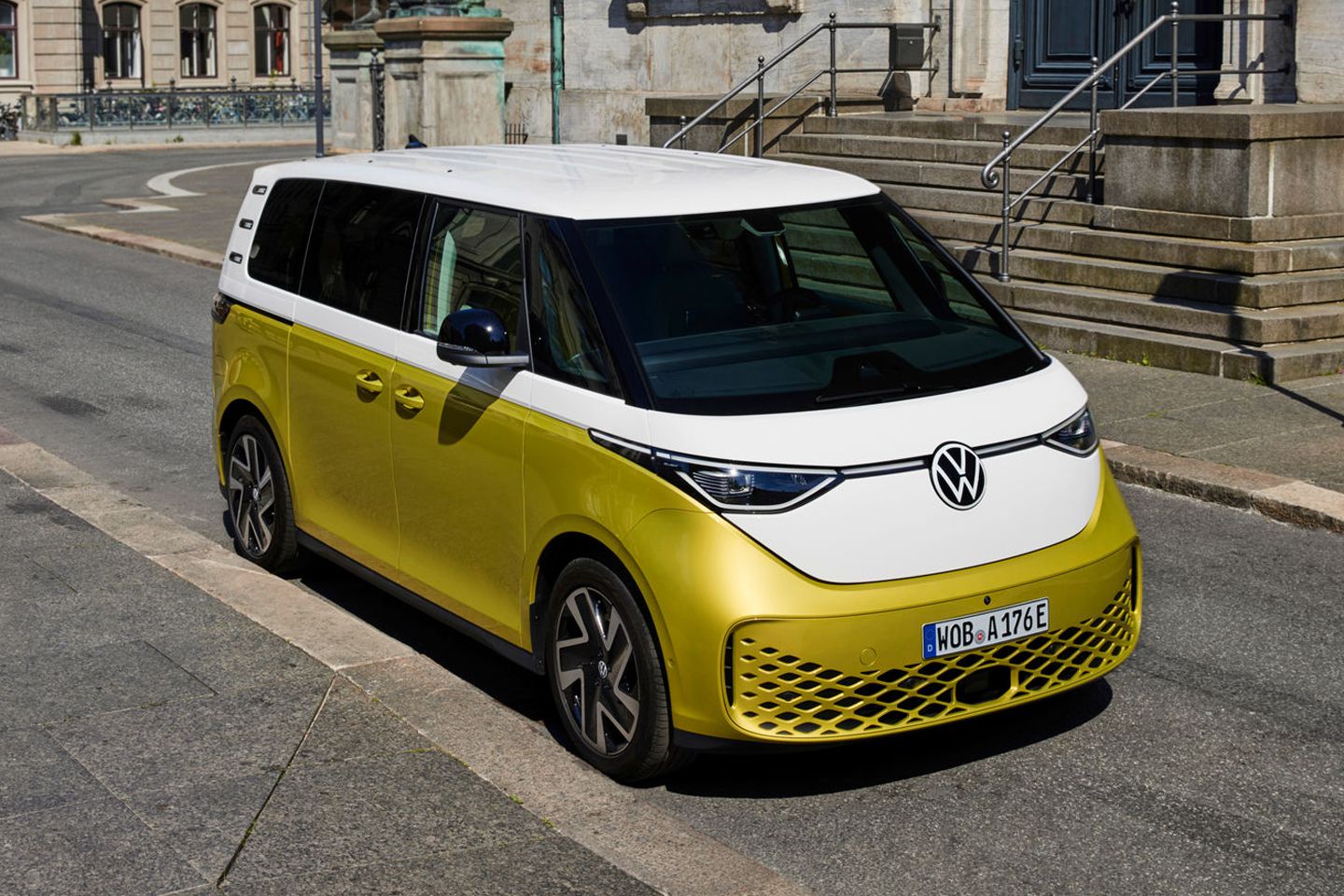 However, this favourable judgement comes from driving just two up with nothing onboard, whether that's the Cargo's payload of up to 650kg or cramming the MPV with five people and whatever can get into 1,121 litres of boot space. Acceleration is always brisk enough, the 90mph top speed is easily reached, and a super slippery shape (just 0.285Cd) makes it a really quiet cruiser, but concerns must remain about how 229lb ft – even an instantly available 229lb ft – will cope when a 2.5-tonne van is loaded up. The suspicion is it's still going to feel pretty spritely after a dozy diesel, but performance – perceived and actual – is where the Buzz feels most distant from its MEB relatives. Don't be surprised if more powerful variants arrive even sooner than expected. And cost even more money, of course.
Granted, criticising a VW van for not always feeling very quick feels like whingeing about poor phone signal at the beach – it shouldn't really be a concern. But so convincing is the Buzz as something to drive (not merely to haul things about and look cool) that it's hard not to crave a bit more oomph.  Moreover, on the subject of the Buzz's less compelling attributes, it's hard to overlook the interior. It's the most convincing electric VW interior yet, with some great colours and textures on offer, a superb captain's chair for the driver to while away the miles and enough charging ports for a small teenage army, but it still feels cheap. And doesn't work properly.
In our time with a Buzz the voice assistant would blurt out random comments, unprompted, asking about music storage and navigation guidance and charging stations. Which is annoying. And the touchscreen is still illogical and slow. Smartphone mirroring should improve the situation, and perhaps you're more likely to have passengers onboard in these electric VWs to help with fiddly controls; nevertheless, the interior remains a long way from good enough. Sorry to keep harping. But what's annoying in a £30k ID 3 is borderline unacceptable when spending double that amount, however much two-tone upholstery and light wood is scattered about.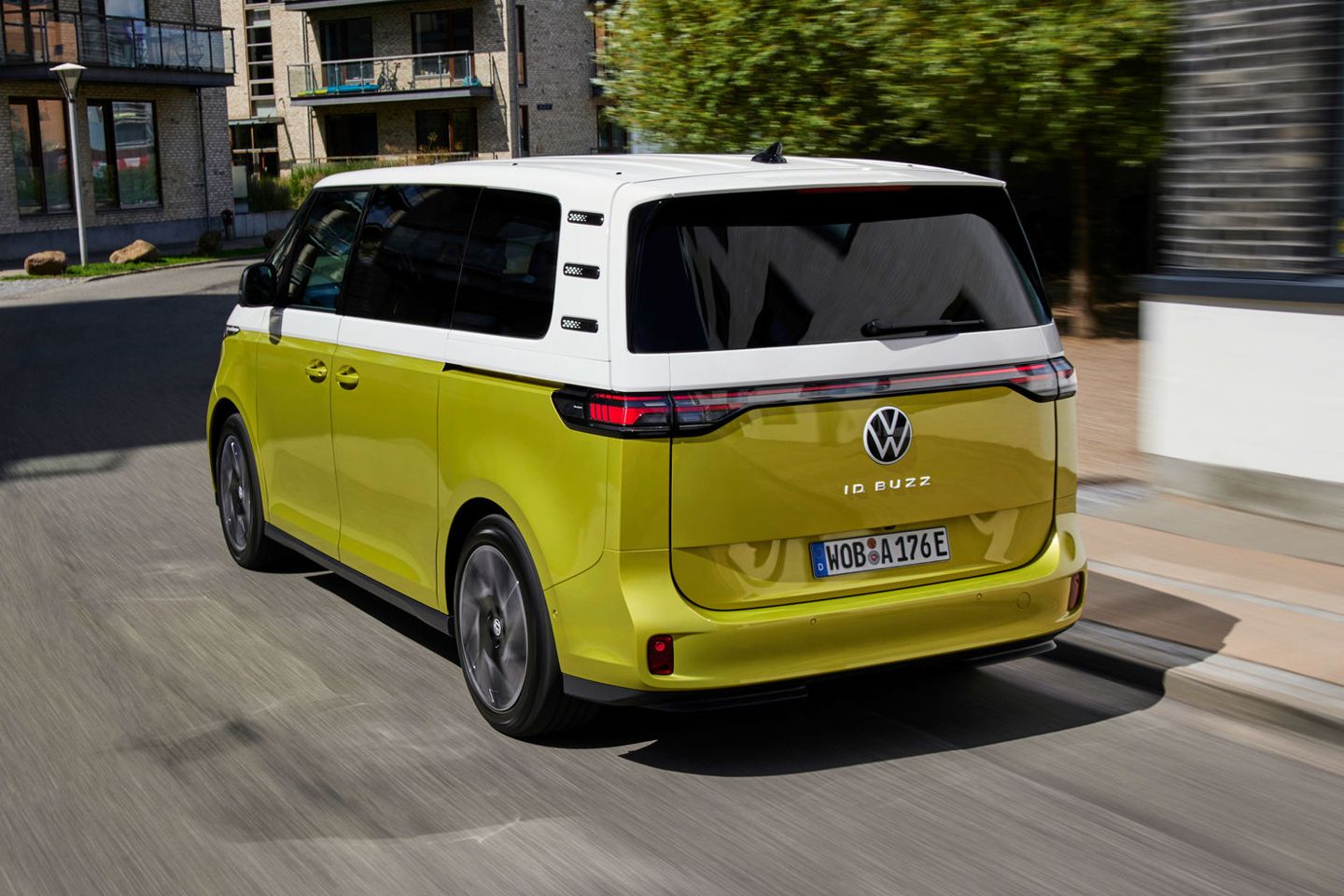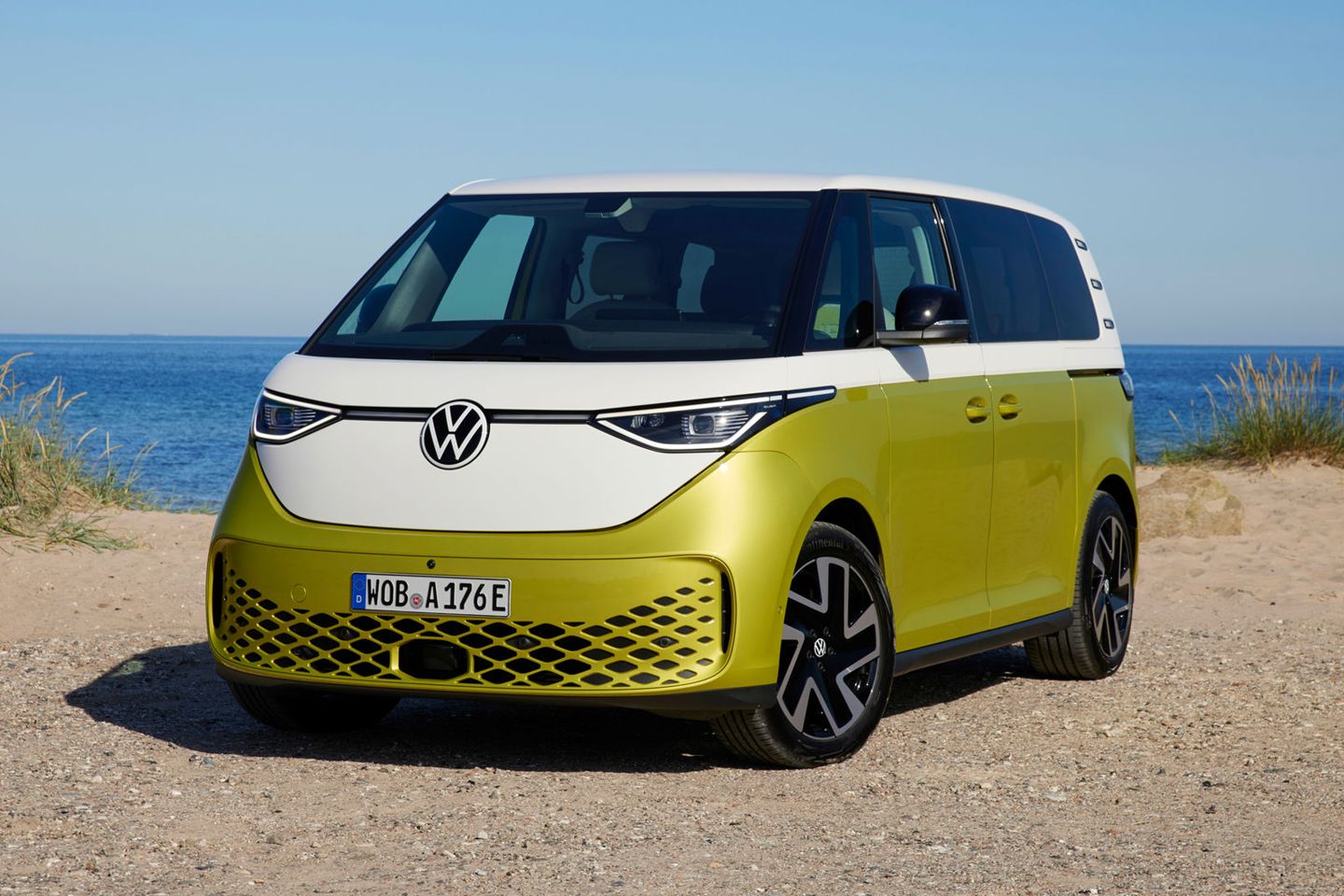 It's a shame to end on a negative because there's an awful lot to like about the ID Buzz. It's a fun idea largely executed with aplomb, and VW deserves a lot of credit for making a production variant so closely aligned with a pitch-perfect concept. As discussed, the very fact a car and van pair exist like this, with electric power, funky design and smart handling, will be enough for most. The buzz (sorry) around both models, in real life and online, makes it feel like job jobbed for VW, especially with little else like them around.
We're probably not really qualified to cast judgement on its prospects as a van, but as a family bus the Buzz seems a whole lot more interesting than yet another electric SUV (which will surely have a lot less space) or a conventional combustion-engined MPV like a Mercedes V-Class, which costs just as much but will feel centuries older to drive. The ID Buzz is undoubtedly the most likeable electric VW yet, welcome in itself as part of a pretty joyless lineup, while retaining all that has made the 3, 4 and 5 objectively recommendable in the first place. What a shame, therefore, that it also remains hamstrung by the same iffy interior. 
SPECIFICATION | 2022 VW ID BUZZ 
Engine: Electric motor powered by 77kWh batteryTransmission: Direct drive single-speed gearbox, rear-wheel drivePower (hp): 204Torque (lb ft): 2290-62mph: 10.2 secondsTop speed: 90mphWeight: 2,486kgCO2: 0g/km (driving)MPG: 258 miles range (WLTP)
Price: £57,115 (for Life model, Style £61,915, 1st Edition £62,995)