2023 Mercedes-Benz EQE SUV Interior Hyped via a Teaser Photo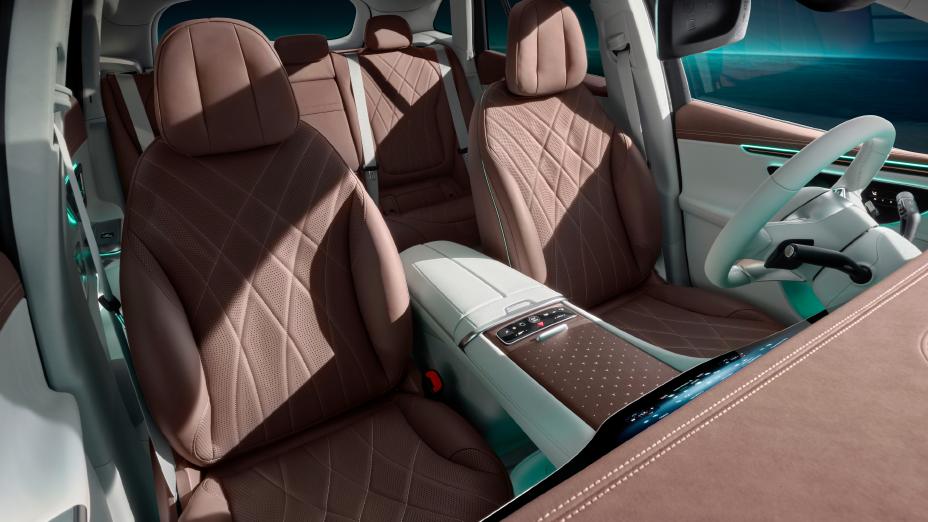 The Mercedes-Benz EQE SUV is built as the bigger, multi-purpose alternative to the EQE sedan. It also benefits from some luxury and tech elements from the EQS SUV and its maker even claims that the EQE SUV is more dynamic than that. As we close in towards the unveiling of the EQE SUV two months from now, Mercedes is now hyping up its interior through a photo teaser.
The features of the EQE SUV may no longer come as a surprise for many because it simply mirrors the same detailing found in its EQE sedan sibling. The only key difference between the two is their size, obviously. With that, the EQE SUV has more legroom than the other.
The EQE SUV rides on the EQ all-electric platform of Mercedes. Like the EQE sedan, the EV showcases a digitized interior highlighted by its standard 12.8-inch central OLED touchscreen and 12.3-inch instrument cluster. The teaser here shows the same Hyperscreen layout found in the EQS with jet turbine-inspired air vents in the cockpit.
Again, like the EQE sedan, the standard interior of its SUV version mixes warm and cool visual elements to create a luxurious yet futuristic ambiance within the cabin. Mercedes said that it utilizes five coordinated color combinations to produce such an effect, too.
Similar to its sedan counterpart, the EQE SUV will be available with a 90 kWh battery pack with its base trim taking 288 hp. A high-performance variant will certainly be offered with up to 626 hp for the range-topping AMG EQE 53.