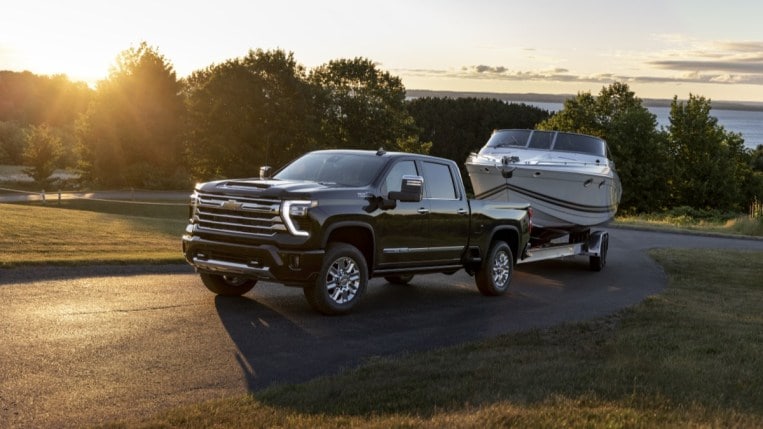 2024 Chevy Silverado HD — More Diesel Power, New Look Inside and Out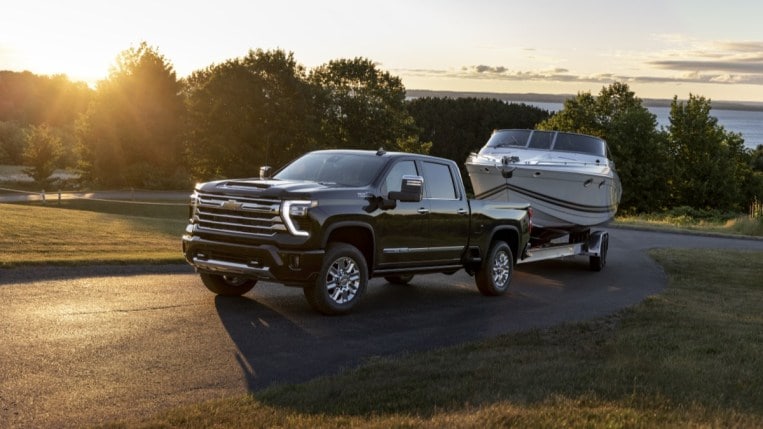 We don't expect to know pricing on the 2024 Chevy Silverado HD for a few months, but it will likely start in the mid-$40,000 range.
Upgrades include a thoroughly refreshed cabin, a more powerful diesel option, and a new 10-speed automatic transmission.
Chevrolet today unveiled a dramatically updated 2024 Silverado HD heavy-duty truck. The new heavy hauler features a refreshed, more sophisticated look, a more powerful diesel option, and a new, more efficient transmission than the truck it replaces.
This isn't technically a full redesign. It's what automakers call a mid-cycle refresh — an update halfway through a vehicle's production run. But, just as it did with the standard Silverado this year, Chevrolet has gone a little deeper than normal for this makeover. It involves a thorough refresh inside and out and some mechanical updates.
The 2024 Silverado HD is once again available in 2500HD and 3500HD models in Regular Cab, Double Cab, and Crew Cab configurations. A dual-rear-wheel option is available on the 3500. Chevy says it will offer Work Truck, Custom, LT, LTZ, and High Country trims. It also says an off-road-focused ZR2 will join the HD trim lineup later in the model year — a first for the Silverado HD. Chevy says more details will come on the ZR2 later.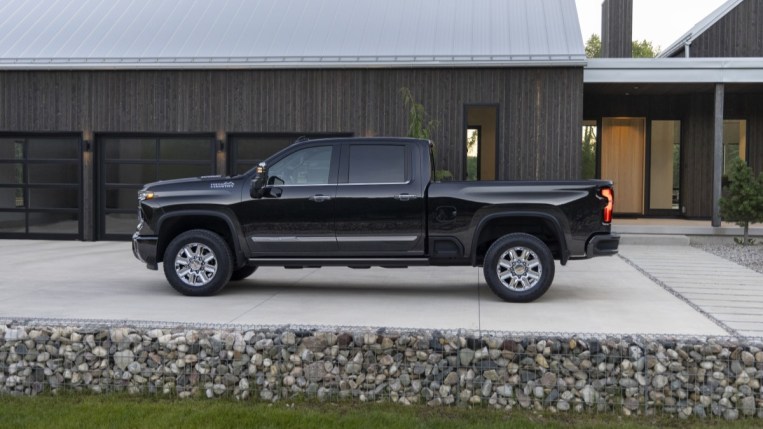 Subtler Look Up Front, Thoughtful Usability Touches in Back
The biggest Chevy trucks get a new look for the 2024 model year. The grille is the biggest change. It loses a horizontal line that made the old model feel layered, gaining a more cohesive look with new C-shaped LED running lights. The headlights are now split distinctly into high and low beams. Chevy says, "as owners approach or depart their 2024 Silverado HD, an animated lighting sequence welcomes or bids them farewell from the truck."
A bowtie badge looks more subtle than the word CHEVROLET stretched six feet wide across the old one. It retains its bulging hood set higher than the bed sides, which has always given the Silverado HD a barrel-chested look like it wants to pick a fight with Popeye.
The bed — up to 83.5 cubic feet with the long box — includes thoughtful touches like corner steps built into the bumper, steps ahead of the rear wheels, and the available 6-position Multi-Flex tailgate. A 120-volt outlet in the bed is optional.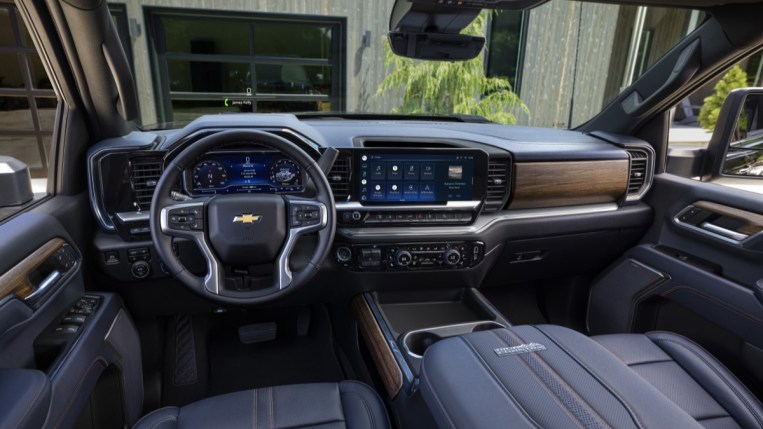 Remade Cabin Includes Bigger Screen
Inside, Work Truck models remain spartan and durable. But LT, LTZ, and High Country models get a thoroughly updated cabin centered around a prominent 13.4-inch-diagonal infotainment screen. It's canted slightly toward the driver.
The center console integrates a wireless phone charger pad set deep in the console, intended to help prevent the phone from distracting the driver. A pass-through space under the center console, Chevy says, creates the spacious feel of an old-fashioned bench seat.
Thoughtfully, Chevy has retained knobs to control the climate settings and volume.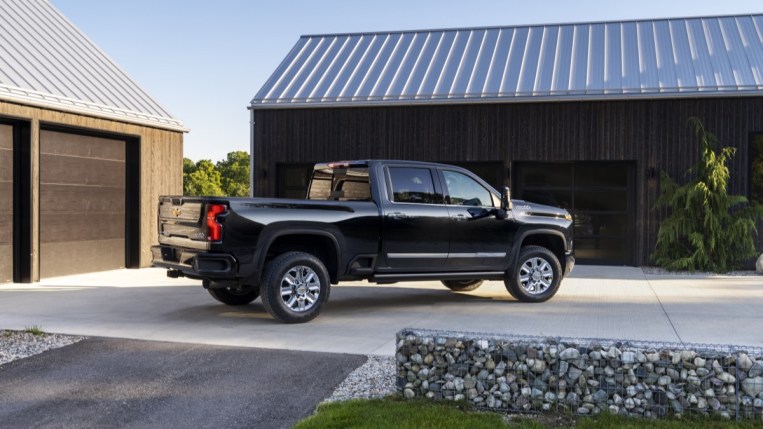 New Transmission, More Powerful Diesel Option
Two powertrains will be available.
The 6.6-liter gasoline V8 returns unchanged, with its 401 horsepower and 464 lb-ft of torque. Engineers have spent some time improving the other one. The well-known 6.6-liter Duramax V8 turbodiesel is back, but with more power for 2024. It now comes in at 470 horsepower and a truly impressive 975 lb-ft of torque.
Both send their power through an all-new automatic transmission, with 10 speeds instead of the old six. It should improve fuel efficiency, though Chevy hasn't published that number yet. The company does say that added gears "translate to a more confident feeling of on-demand power, regardless of whether the truck is towing a trailer."
When paired with the gasoline engine, the transmission comes tuned to optimize grade braking, "with the closer gear ratios enabling greater engine-braking control."
An improved suite of available towing technology includes cruise control that accounts for the added drag of a trailer, and a blind-spot alert that accounts for the length of the trailer. Also new is a warning that sounds if the combined vehicle and trailer weight exceeds the vehicle's gross combined weight rating.
The big truck will make its public debut at the State Fair of Texas later this month, at which point we expect to hear about pricing.