BMW M4 CSL | PH Favourite Car of 2022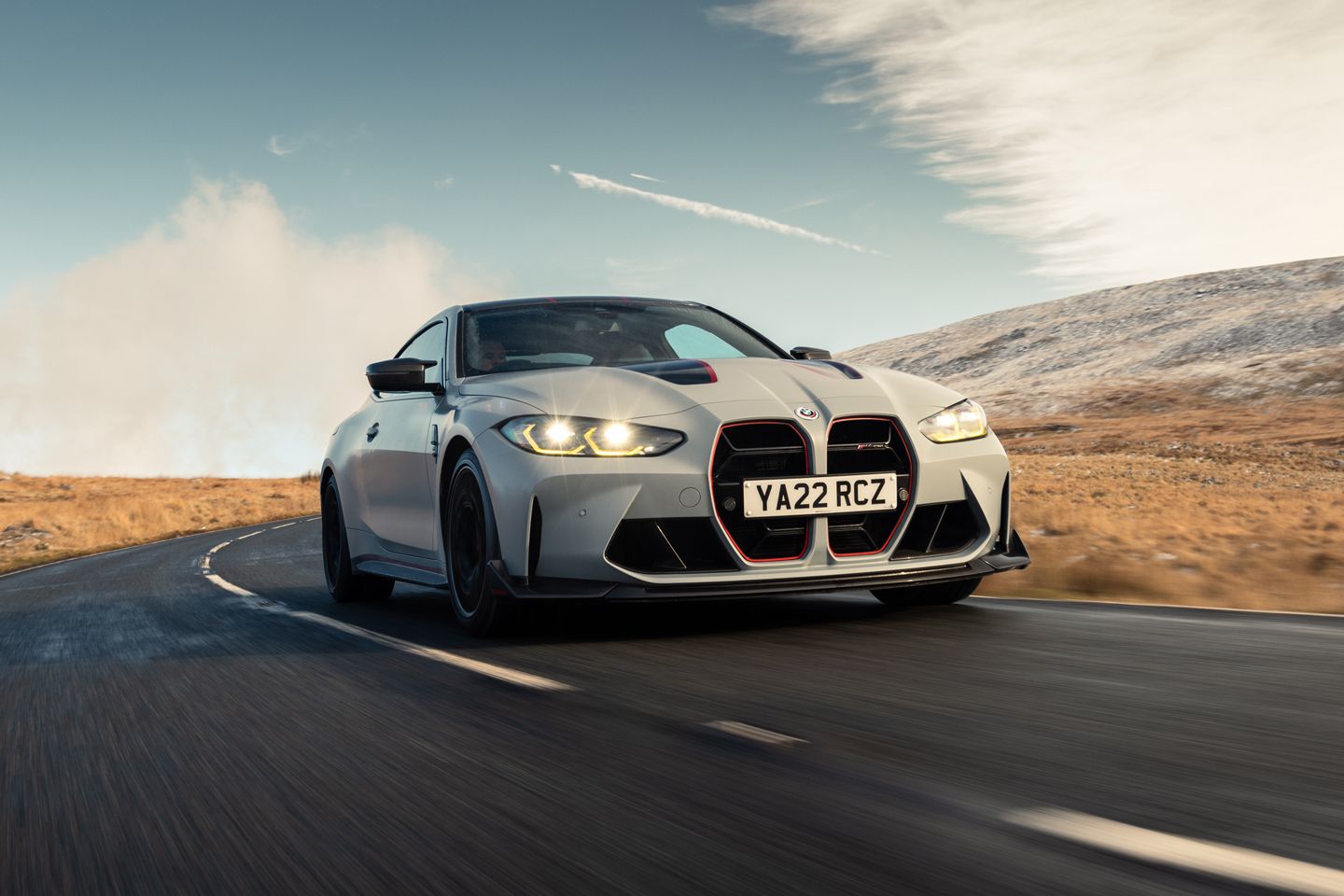 Here's a Christmas cracker corker for you: I like the BMW M4 CSL as a static object. Yes, honest; sounds like a joke but isn't. Perhaps it's still a bit chunky and, er, grilley for perfection, but I love all the little details that mark it out. And on a shoot like the one we cooked up for our annual favourite car of the year trip – i.e. far more favourable to a photographer than it is to a driver – there's plenty of time to take them all in, from the stunning Le Mans-style yellow Laserlights up front all the way to the titanium exhaust's kaleidoscope of colours.
The engine bay bracing is a work of art (the carbon bonnet itself is lovely as well), the negative camber up front is rude, the wheels themselves are beautifully dished, the bare bulkhead in the boot is weird but brilliant, and I'm even growing to appreciate the incorporated spoiler. Maybe the CSL isn't what you'd call cohesive in the same way you might its pitch-perfect M3 predecessor, but the longer you stand looking at it in the freezing cold the more you appreciate just how much effort has been put in. Those who dismiss the CSL as simply more boost, more stickers and more money couldn't be more wrong.
Brecon in December is not the environment for this ultimate M4, however, I will concede. It's not ideal for any of the five cars assembled, to be honest (well, one perhaps – but more on those in the coming days). Most are too angry for the Ski Sunday conditions, and, in the case of the M4, rather too large as well, thumping over cats' eyes to keep away from the ice that lurks at the edge. It feels ludicrously potent, too, with punchier turbos (now at 2.1 bar of pressure instead of 1.7) loving the cold, dense air and making the power delivery feel just a bit more turbocharged than standard. Which is quite exciting. I'll be damned if this is producing much less than 600hp – the M4 CSL is an absolute monster.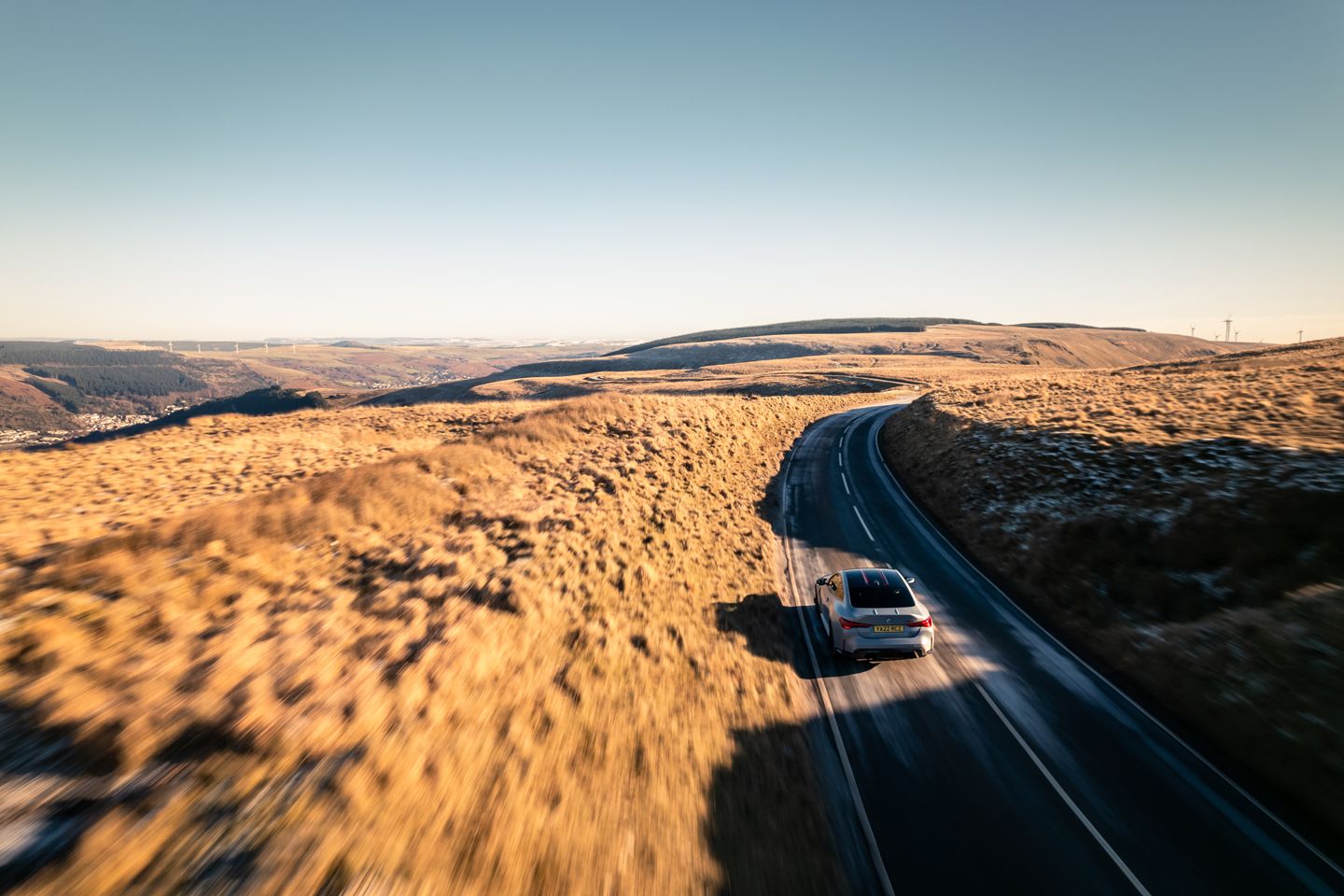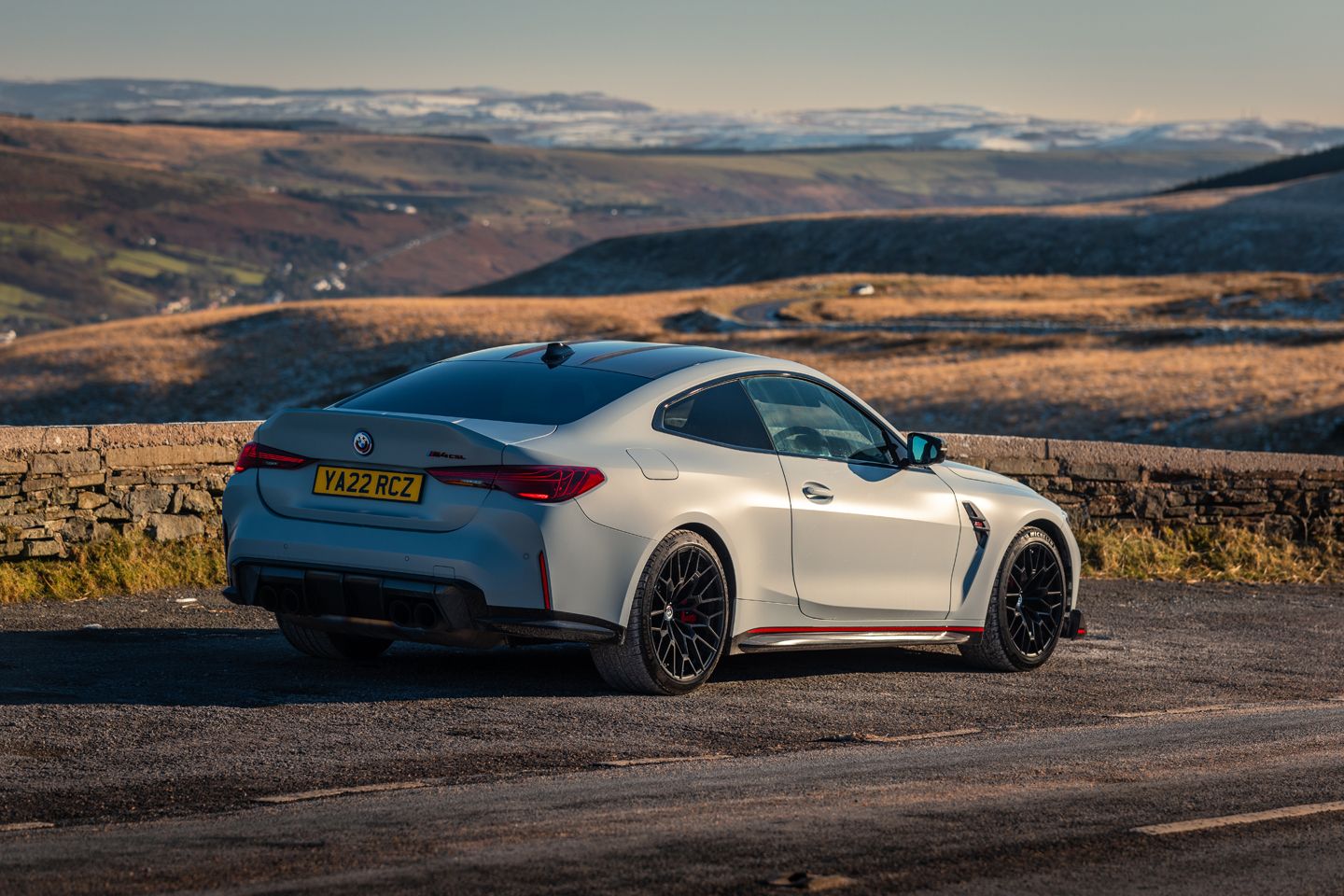 And yet, despite less-than-ideal weather, it shows real finesse. This isn't some rock-hard road racer that is next to useless on the public highway, which is to the CSL's credit, even if it never feels entirely at home in Wales. If you want a pure track day car, get a Radical. While a standard M4 will probably be enough for most folk. But for those that really want to make the most of any journey, in any situation, without being totally overwhelmed by the noise or the effort, the new CSL really is compelling. The way it steers, lighter and cleaner but more direct and feelsome than standard, means every corner seems more satisfying; the ceramic brakes are even mightier slowing less weight.
And if you'll excuse not going full motoring journalist drift king in the snow, the way the assists meter out just the right amount of power to balance entertainment and security really feels as clever as anything this side of a Ferrari. The way the CSL communicates with the person plumbed into that lovely bucket seat (I even like the illuminated bit) is really something. And with the titanium pipes transmitting every fluctuation in revs, along with the intelligent input of the systems, it inspires a lot of confidence. I can well see how the faith in everything it does contributed to that incredible Nurburgring lap time. Seldom do cars this large and heavy engender as much trust.
Moreover, I like the CSL more than I did on the first drive, which is always a good sign. It means there's more to learn and discover over time, rather than the car giving up everything at the first prod of the throttle. The more I drove it, the more I wanted to continue – and still do. There's some proper straight-six rasp to appreciate with the exhaust button off, it genuinely covers distance very well, and grit flicks up in the arches to echo in the vast cavern behind like all the best stripped-out specials. There's far more depth and polish to this experience than people on the internet will tell you.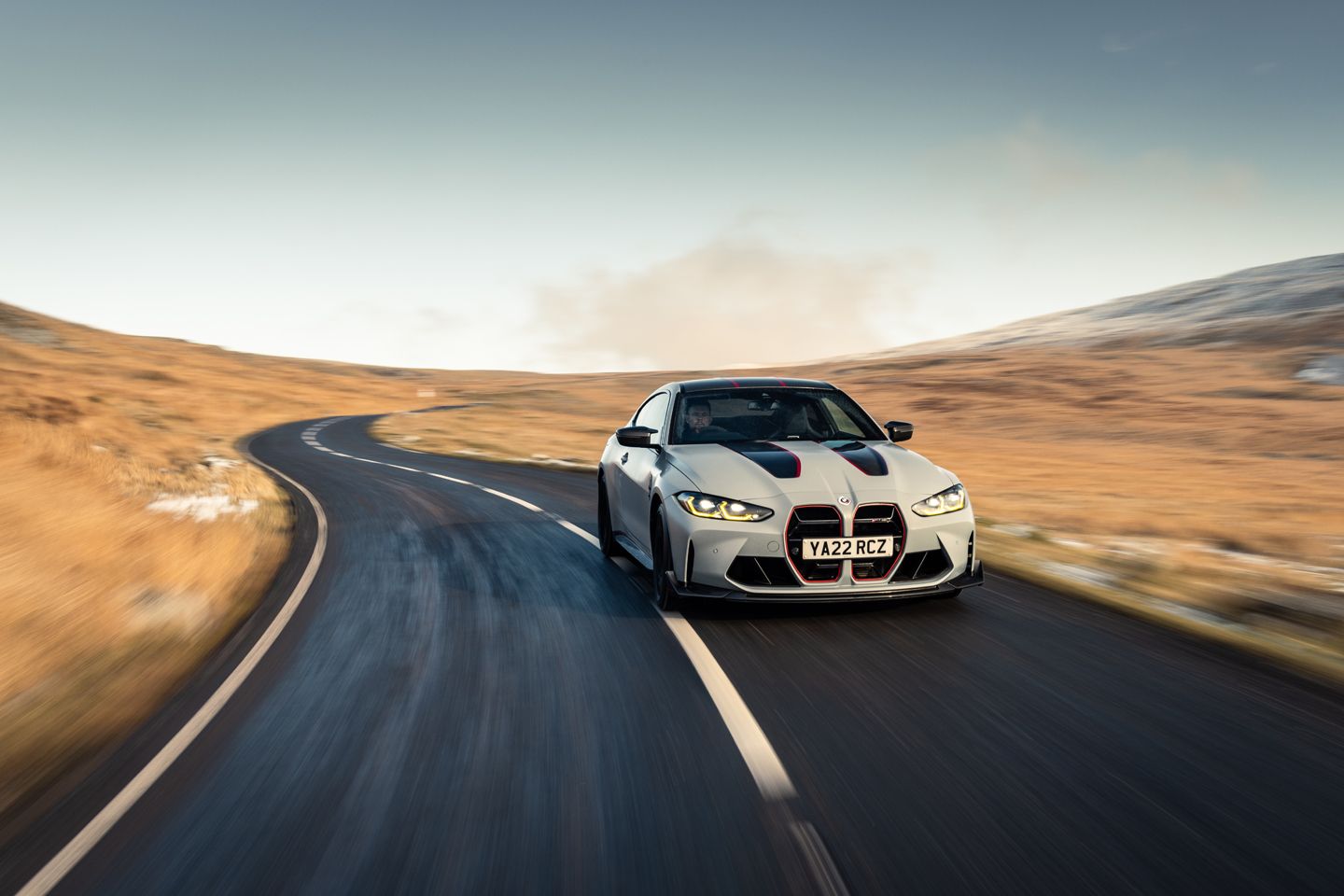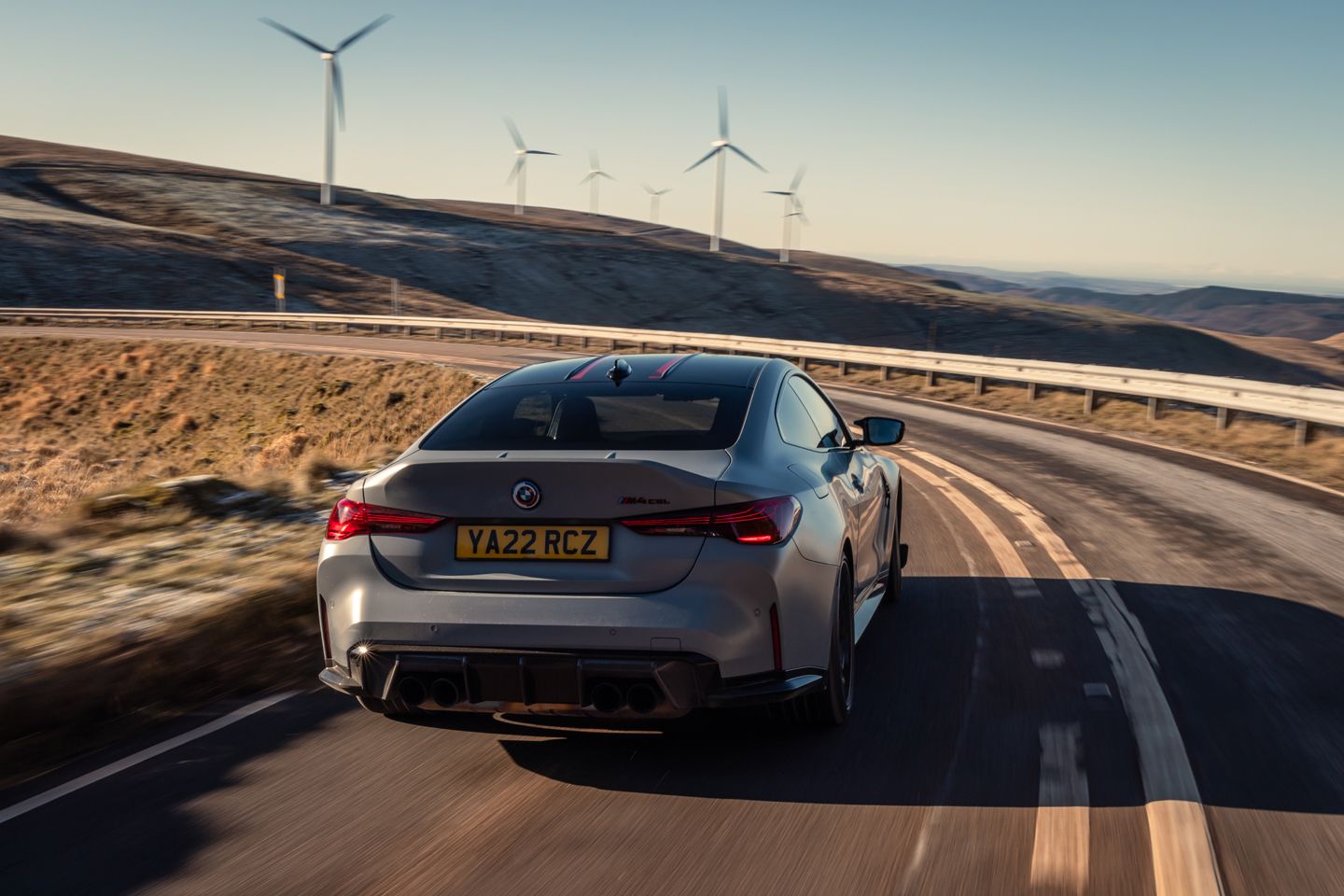 This is why the M4 CSL in wintery Wales reminded me of another car: the Nissan GT-R. Also big, also heavy, also dismissed by some as too chubby to be a genuinely gratifying driver's car. But with expert tuning and some very sophisticated technology, both CSL and GT-R are properly absorbing six-cylinder sports cars that thrill like no other and require effort to get the best from. There's even a drastic uptick in power over an iconic predecessor from many years before shared between them. I love the CSL like I love the GT-R, with a combination of a furious twin-turbo engine of around 600hp, incredible mass management and assists that properly enhance the experience. They even both have gearboxes I wish were a little bit better.
Granted, the CSL is compromised: by its price, by its looks, by calling a 1,700kg BMW a CSL. But there are many seemingly conflicted cars out there that are brilliant despite their shortcomings, and that's the key I think to enjoying (and loving) the M4. There's so much baggage attached to the tricolour and the 50th anniversary year that in being caught up in what a CSL should be – what an M car should be, even – we might have ignored the fact that M4 is just a flipping good car. It might not be what you think a CSL should be, or what a £130k BMW ought to be, but it's a sublime driver's car. And that's good enough for me.
SPECIFICATION | BMW M4 CSL (G82) 
Engine: 2,993cc, twin-turbo straight-six
Transmission: 8-speed auto, rear-wheel drive
Power (hp): [email protected],250rpm
Torque (lb ft): [email protected],750-4,950rpm
0-62mph: 3.7sec
Top speed: 191mph
Weight: 1,700kg (EU, with driver, and standard manual seats)
MPG: 28.2
CO2: 225g/km
Price: £125,955 (price as standard; price as tested £126,950 comprised of BMW M 50 Years badges for £300, BMW Individual Paint for £695 and M Carbon Bucket Seat Comfort Pack (Electric Memory Seats, M carbon bucket seats, Front heated seats) as a no-cost option)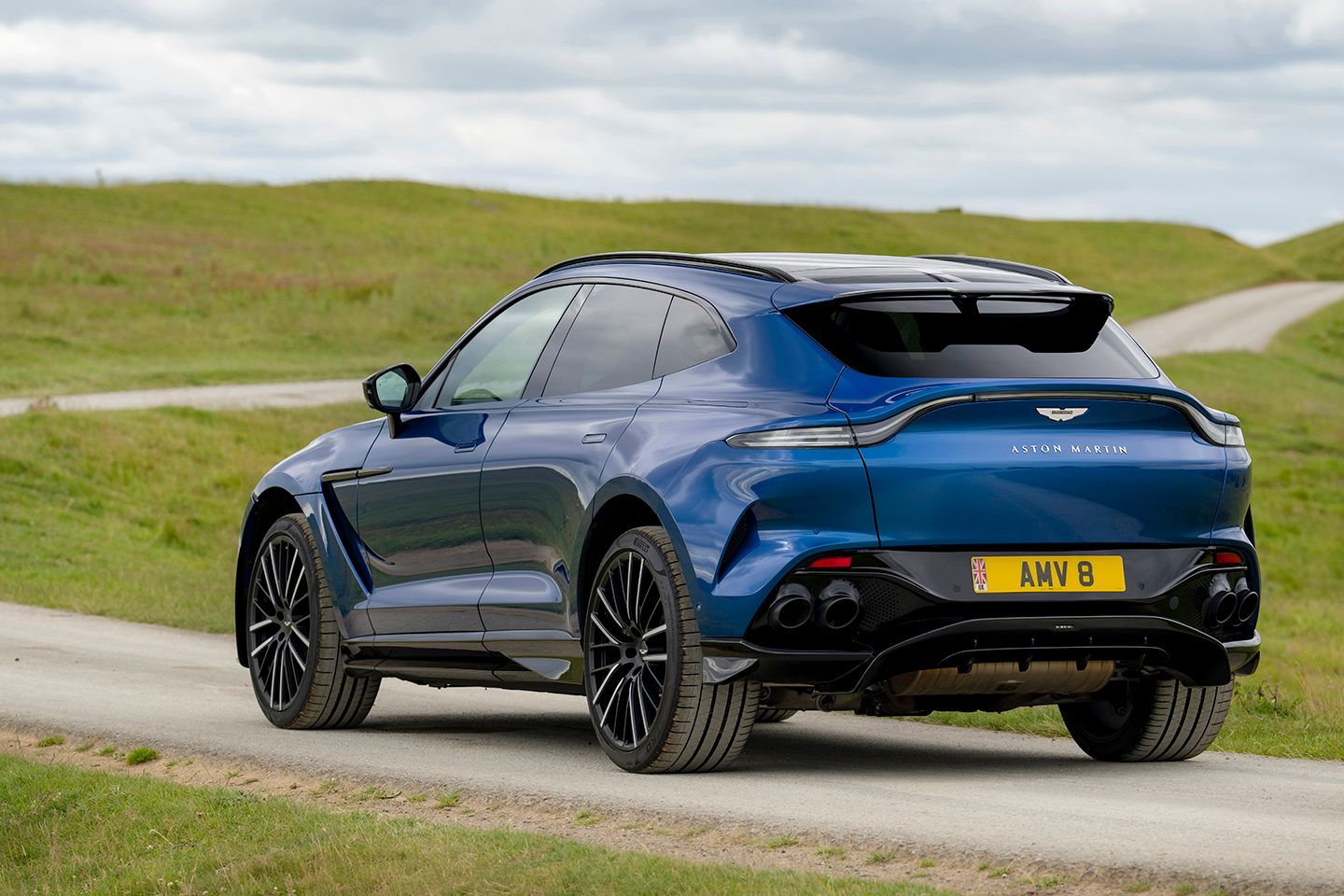 Honourable mention…
As cars – both combustion and battery-powered – edge ever closer to perfection, so those some way short of flawless almost inevitably become more endearing. It would be hard to recommend the DBX 707 in good faith to the average super SUV buyer, because the interior isn't quite good enough and too often the gearbox frustrates. But, my goodness, as a car to savour the experience of driving, they really don't come a whole lot better than the most powerful SUV in the world. No, really. The way the Aston's disparate elements meld into one satisfying, rewarding whole would be impressive in a saloon half a tonne lighter. That an SUV can steer, brake, handle and accelerate like this is borderline miraculous. As well as being freakishly capable it's supremely entertaining, too, always able (and willing) to put a smile on your face. That might be from the furious racket of the epic twin-turbo V8 (or the formidable speed of the thing), the unerringly sorted ride even on massive wheels or the sheer incongruity of one of the best-sorted Astons ever being a four-door, four-seat SUV. Whatever the case, I'm a fan. It's a mad, bad, brilliant car, the 707, one that can flit from inspirational to infuriating in a second, which ensures it's nothing if not absolutely unforgettable. A proper Aston Martin, in other words.