May 2022 Tesla brand loyalty more than doubles year-over-year and leads all brands industry-wide
Tesla's May 2022 brand loyalty of 63% is exceptional when viewed
from just about any perspective: it is more than double its May
2021 loyalty of 29.4%; it is the highest brand loyalty not only of
any luxury brand but of any brand industry-wide in May; it is 12.3
PP above luxury runner-up Lincoln; it is one of only two positive
year-over-year results among the 20 luxury brands (with Lincoln);
it is the ninth consecutive monthly Tesla loyalty greater than 60%;
finally, it is the only brand to break the 60% threshold in brand
loyalty in the inventory shortage-impacted 2021 or May CYTD 2022
time periods.
A review of Tesla model-level data in May reveals that while
every model has experienced sizable year-over-year increases, the
Model 3 results stand out. Model 3's May return-to-market volume of
4,413 is 51% of the brand's volume, making its results that much
more important. Model 3 May brand loyalty of 67.9% is more than
double the year-ago tally and the highest of any Tesla model (note
that the smallest year-over-year jump of any Tesla model
in May was 29.8 percentage points). Further, Model 3's brand
loyalty is the second highest of any model in the industry,
trailing only the Ford Edge. Also, Models 3 and X rank in the top
ten models across the industry in May brand loyalty; Tesla joins
Ford, Chevrolet, and Toyota as brands with two models in the top
ten in May brand loyalty.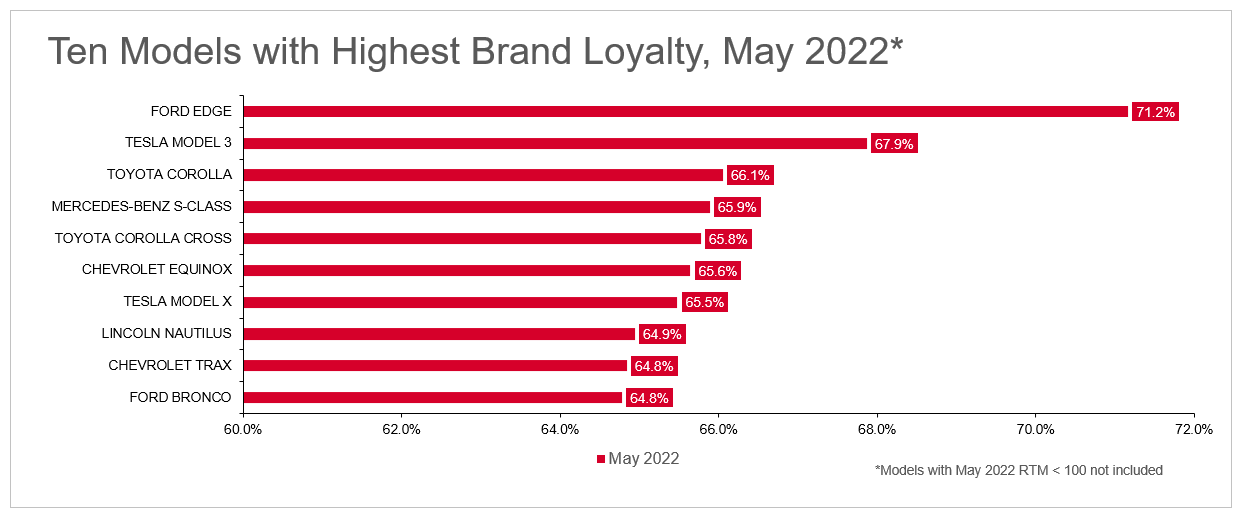 Lastly, these national Tesla loyalty results mask some
extraordinary DMA-level results. Tesla brand loyalty in May
exceeded 80% in six DMAs (all in California), including San Diego,
San Francisco, Fresno, Sacramento, Los Angeles, and Monterey. To
provide a broader perspective from which to acknowledge how
exceptional these results are, national brand loyalty in May was
49.9%.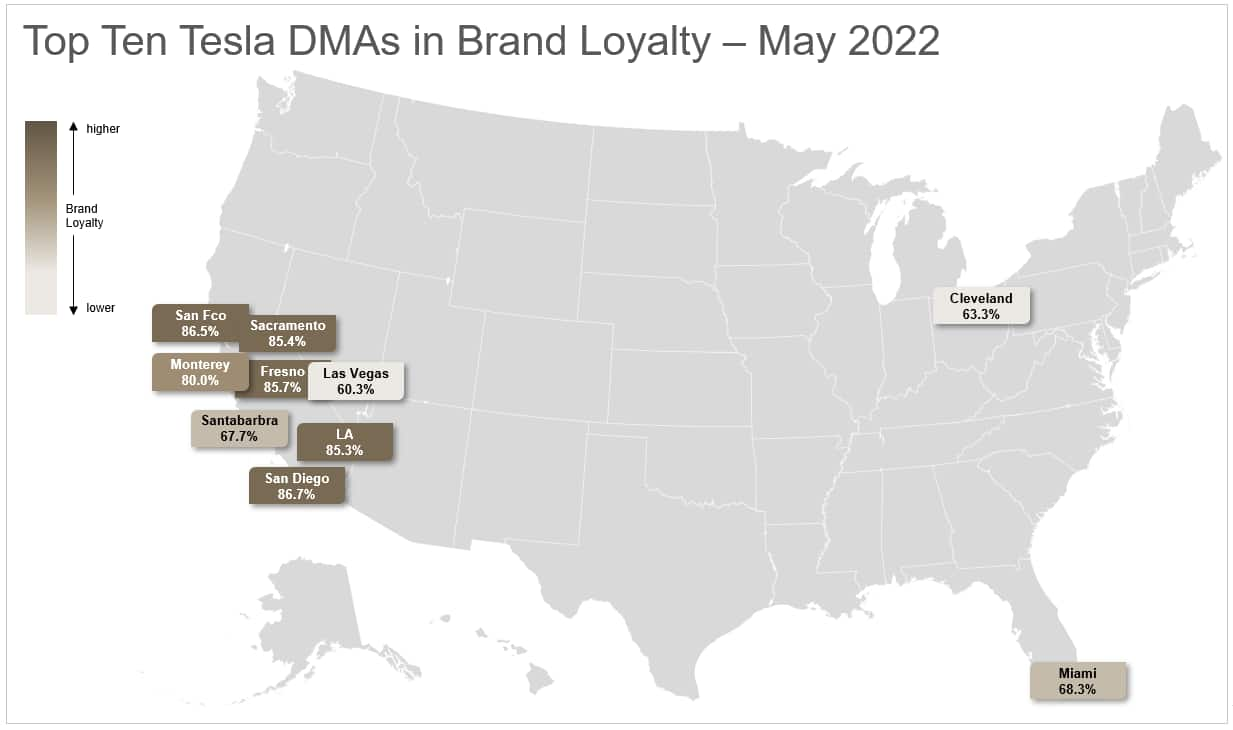 What does all this mean? In a nutshell, it means that Tesla not
only is selling a lot of cars and crossovers (more than any other
luxury brand in May), but that these buyers like their vehicles and
are buying another one. These are ominous findings for the rest of
the industry. Every brand – luxury and mainstream – needs to
develop an effective competitive response to Tesla as soon as
possible.
—————————————————-
This automotive insight is part of our monthly Top
10 Trends Industry Report. The report findings are taken
from new and used registration and loyalty data.
To download the full report, please click below.
DOWNLOAD REPORT
---
This article was published by S&P Global Mobility and not by S&P Global Ratings, which is a separately managed division of S&P Global.