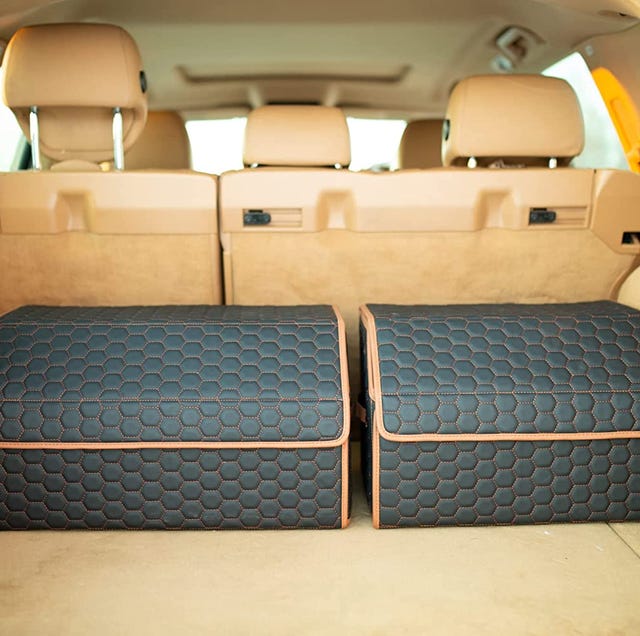 The Best Car Trunk Organizers for 2022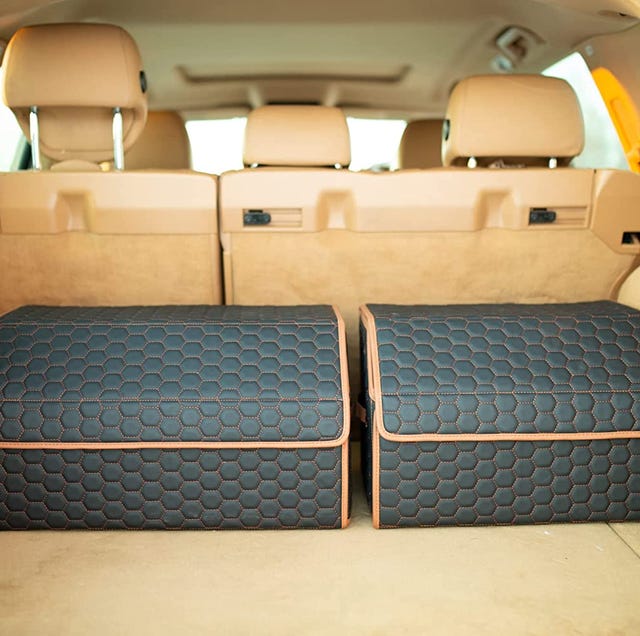 Courtesy
Trunk space is one of the best and most cherished features of modern automobile design. But having all that backyard real estate isn't without its shortcomings, mainly when the agenda doesn't involve hauling large items. One wrong turn or hard-braking maneuver after a grocery run, and you could be cleaning up a messy smorgasbord of deconstructed meals. That's where the trunk organizer comes in handy.
These handy dandy organizers are compartmentalized storage bins universally designed to fit in the trunks and frunks of all kinds of vehicles. But rather than just being plain bins with lids, trunk organizers feature mounting gear compatible with nearly all car interiors. Most are also made of easy-to-clean and durable materials, so there's no need to reuse those dirty cardboard Amazon Prime delivery boxes.
Not only do these organizers keep your car's cargo area nice and tidy. Unsecured items can present a significant safety risk. Should a collision occur, they could become hazardous projectiles when Newton's first law comes into play. Trunk organizers help prevent this by keeping things buttoned down. But as you'd expect, there are many to choose from, so we sifted through the dizzying selection and created a handy buyer's guide on the best trunk organizers for the keenest of neat freaks.
How to find the measurements of your car trunk
Before buying a trunk organizer for your car, it's a good idea to know how big your trunk is. These specifications are often found on the manufacturer's website, under the model's specification sheet or with just a quick Google search. Alternatively, you can do it with a smartphone equipped with measuring software and LiDAR sensors—such as the iPhone 12 and newer with the Measure app—or with an old-fashioned tape measurer. Remember to measure the length of the trunk, the width of the trunk, and the height.
Advertisement – Continue Reading Below
The Best Value Car Trunk Organizer
Fortem Car Trunk Organizer
Practicality and versatility often pair well with each other, and that's what the Fortem car trunk organizer is all about. We like its robust and durable build made of ultra-durable water-repellent 1680D nylon and its array of strap-down and buckle-based mounting gear. But more so, we appreciate the Fortem's ability to collapse into a smaller organizer should the need for bin space vary. Should the organizer not be needed, it and its dividers can be folded completely flat and stowed away.
Want a little privacy? It also comes with a sturdy detachable lid, which is secured by Velcro. The dividers in the storage bin are also reconfigurable—again, thanks to the use of Velcro. But to top it all off, the Fortem offers all this flexibility for just $34.99 for the two-compartment model and $49.99 for the three-compartment version, which is about the above-average price for a high-quality trunk organizer.
The Best Trunk Organizer Money Can Buy
Orient Famulay Trunk Organizer with Cooler
Want all the bells and whistles? The Orient Famulay trunk organizer is about as feature-packed as organizers get. Off the bat, it's offered in three-compartment form and is made of water-repellent 600D water-repellent polyester. But for the same price as the FORTEM's three-way offering, Orient Famulay includes a detachable medium-sized cooler to keep perishables fresh, which slots into the trunk organizer.
Like the FORTEM, it can be reconfigured to accommodate a variety of items and parcels and can be reduced to two compartments or one single compartment. Additional storage comes in the form of extra pockets and patches on the side and mounting straps.
The Best Trunk Organizer on a Budget
Amazon Basics Trunk Organizer
Just need something simple but still feature-rich? Amazon's brand has an affordable two-compartment trunk organizer. Despite its entry-level price, it still offers plenty of value and versatility, along with a durable 600D polyester build. Like the others, it collapses into one. Should the organizer not be needed, it can also be folded flat and stowed away neatly.
Four additional mesh pockets complement the outside, along with two medium-sized side pockets with Velcro flap covers for the small things. Nylon handles are also embroidered for easy removal from the vehicle when loaded. It doesn't come with any extra straps or mounting gear. But it does come with grippy rubber feet that help keep it from sliding around. Nothing that a few bungee cords can't solve.
The Best Trunk Organizer for SUVs and Wagons
Snuopfy Car Trunk Organizer
Have an SUV, wagon, van, or hatchback with an open trunk space, rear exposed bench seating, and don't want a clunky organizer sliding around and taking up precious trunk floor space? Snuopfy has the perfect solution. It hangs on the back of the second or third rows by way of straps that wrap around the seats' headrests, offering a far neater and more organized look. The Snuopfy also features Velcro pads designed to attach to the fabric on most bench seatbacks, securing it from the swinging motions incurred by acceleration and deceleration.
The Snuopfy is designed to fit in most vehicles and is offered in several pocket and pouch configurations, which can be chosen according to your likings and needs. But its unique proportions compromise overall storage volume. So don't expect it to hold very many large and bulky items. However, with a starting price under $20 and a max price of $25 for the fanciest of the range, this everyday solution is hard to beat.
The Best Trunk Organizer for Convertibles
Rola M.O.V.E. Rigid-Base Trunk Organizer
While sedans and S.U.V.s typically have bountiful amounts of cargo space, the case isn't the same (no pun intended) with coupes and convertibles. Most do come with a trunk or frunk of some sort, but they're typically limited in overall volume. That's where the Rola M.O.V.E. comes in as our preferred solution to this specific need.
The Rola M.O.V.E. features a 38-inch by 15-inch footprint; however, its signature shallow height of just 7-inches makes it the perfect trunk organizer for those with wide, shallow trunks. This is helpful with convertibles, where the folding roof mechanisms often compromise trunk space height. While it can be used in all types of vehicles, its practicality is limited again by its low height, so tall items aren't likely to stay put.
The Stylish Car Trunk Organizer
Foldable Trunk Organizer For Car Trunk Organizers Car Storage Collapsible Auto Trunk Organizer With Lid Small And Large Cargo Organizer Trunk Organization For SUV Sedan BMW Tesla Jeep (21.6 inch (1 piece), Black/Brown)
Don't want a utilitarian organizer making for an ugly interior in your fancy ride? The Owleys Foldable Trunk Organizer Bin is a classy and no-frills way to keep things organized in your trunk. It's void of any exterior pockets or fancy coolers and is instead festooned in a two-tone patterned polyurethane faux-leather exterior for a simple, upscale look.
Offered in two sizes—17-inch and 21.6-inch—all models come with an integrated flip-top cover with Velcro strips and dividers for the interior. Despite rigid constructions, both can still be broken down and folded flat when not in use.
Lasfit Car Trunk Storage Organizer
While the Lasfit trunk organizer doesn't look that much different from many similar organizers, the Lasfit's value comes from its attention to detail, making it the Mercedes-Benz of trunk organizers. On the surface, at just under $50, it seems like a pricey two-compartment offering, but start looking at how it's built, and you'll see where that value comes from.
It features the same 1680D polyester nylon material on the outside as the Fortem but is woven in a tougher Oxford weave. Softer 420D Oxford fabric lines the interior to avoid damaging the organizer's contents, 2.5mm high-density fiberboard inserts help maintain the compartments' rigidity, sturdy aluminum handles make for easy pickup, and the detachable Velcro covers maintain privacy. Collapse the Lasfit, and it stores away neatly in the included carrying storage bag along with extra dividers.
Zento Deals Heavy Duty Stretchable Black Mesh Net Cargo Trunk Storage Organizer
Most family vehicles came with these mesh trunk organizers as an "included throw-in dealer accessory." Though often, they typically ended up misplaced or mistaken as trash. Should that have occurred and you're a fan of these simple organizers but don't want to pay crazy dealership markups for the factory ones, Zento Deals makes it easy with its universal heavy-duty mesh trunk organizer.
Like ones included with cars, the Zento Deals mesh trunk organizer hooks up with the car's preexisting trunk mounts and hooks, making for an easy way to store the basics. The best part, it's under $20.
The Best Trunk Organizer for Golf
Samsonite Travel Golf Trunk Organizer
If there's one demographic that cherishes trunks more than families with multiple children, it's golfers. With much to carry for a day out on the fairway, trunk space is a golfer's own personal mobile country club locker room. To keep all the golf balls, tees, and other important smaller bits from getting loose is Samsonites Travel Golf Trunk Organizer.
Straight from the brand's renowned line of golf gear, the Travel Golf Trunk organizer has all the workings to keep anyone ready for tee-time. From a two-level space—the lower one reserved for golf shoes and other more oversized items, the upper for gloves, extra sets of clothes, and other accessories—to a water- and stain-resistant interior and exterior. It's everything you'd expect from the reputed brand, and then some. Thus, it's reflected in its price premium.
High Road CargoCube Car Trunk Organizers and Multipurpose Storage Bins with Leakproof Liner – set of 2 (Black/Gray)
Just need something super simple and basic? High Road CargoCube offers a set of individual leakproof organizers that work not just in the trunk but anywhere you need some extra storage organization. Presented in a range of colors, these CargoCubes are made of the usual 600D polyester and feature metal handles for easy carrying as well as leakproof interior linings, meaning they can handle just about anything you can fit inside them.
This content is created and maintained by a third party, and imported onto this page to help users provide their email addresses. You may be able to find more information about this and similar content at piano.io
Advertisement – Continue Reading Below