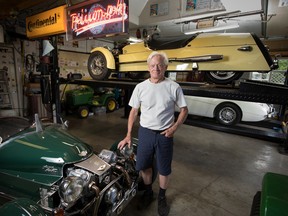 Upscale garages are all in the details
Easy to clean floors, storage and car lifts — not to mention big screen TVs and gym equipment — elevate the simple garage to new heights.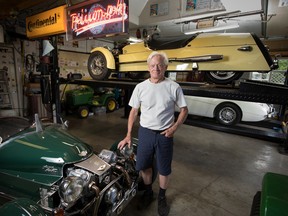 Reviews and recommendations are unbiased and products are independently selected. Postmedia may earn an affiliate commission from purchases made through links on this page.
Article content
When Tom Scully built his house in 1990, a deluxe garage was high on his priority list.
Article content
Not only did he need extra room in the garage for the big equipment he required to maintain his two-acre property in Rocky View County, he also required adequate space for a hobby he has enthusiastically kept up for the past 63 years.
"My father got me hooked on cars when I was about 10. He was an ex-General Motors employee, and he was always building cars," he says. "When I'm re-building cars, I'm out there for hundreds of hours, depending on which car I'm working on."
He installed in-floor heating when the 1,250-square-foot attached garage was constructed, with an additional hot water heater overhead for supplemental heat in the winter. The garage is drywalled and insulated and features a pair of 8,000-pound hoists.
Article content
"It can hold eight vehicles. I keep at least six cars inside all the time plus my wife's car — she demands her own spot," he says with some humour. "I don't know whether it'll pass as a classy, high-end garage with fancy granite floors like some guys have. It's a functioning, working garage."
Scully uses his garage as intended, but modern lifestyles are steering the garage away from a vehicle-only domain.
Homeowners are renovating that vast square footage into more organized, functional and sometimes, liveable space.
"People want to utilize every inch of space in their home and the garage has become an extension of that. Like, when people started extensively developing their basement — this is the next step," says David Stobbe, Calgary franchise owner of Premier Garage, a division of Tailored Living.
Article content
Garage Living is another solution-oriented company that has been fielding requests for garage detailing. Owner Mike Reiber purchased the Calgary franchise in 2015 and says COVID-19 only accelerated the desire for useable space in the garage.
"People were stuck at home and suddenly realized the biggest room in the house isn't done. They were looking at getting the kids out of the house into the garage. It can be used as a functional room," he says.
That's not to say that turning the garage into useable space kicks the car to the curb. Reiber has created spaces that can be used for gyms, offices and children's playrooms once the vehicles have been backed out into the driveway.
Stobbe says he's installing televisions in garages clean enough for watch parties and even the odd poker tournament.
Article content
"When you think of it, the average two-car garage is between 400 square feet and 600 square feet. That can really expand your home," he says.
A natural gas furnace or overheat heater makes an insulated and drywalled garage comfortable year-round. In-floor heating is best installed before the garage floor is poured, otherwise it's prohibitively expensive.
"About 70 per cent of people I work with just want to get organized," Reiber says.
With the installation of cabinets and storage solutions that can include the overhead area of the garage, homeowners are using this space for mudrooms and kitchen pantries. Both companies offer unique solutions for out-of-season sports equipment and clothing and tools.
"When you run out of storage in your basement, the next place is usually the corner of the garage," he says.
Article content
It starts with getting everything off the floor. Then, an epoxy-based coating can be applied to the concrete floors and stem walls, followed by with a flake product that provides grip. Concrete floors that are simply painted can often be slippery.
Stobbe follows that up with a polyaspartic, an advanced compound that is resistant to harsh substances such as gasoline, motor oil, brake or transmission fluid. The epoxy floor won't stain and any spills can be cleaned with dish soap and water with an added citrus degreaser.
"It keeps the dust down and is appealing to the eye. It makes people want to invest their time in maintaining their garage," he says.
At an average cost of $12,000 to $24,000, depending on the scope of work, optimizing the garage is an investment. A finished garage is an upgrade that new home buyers find appealing, Stobbe says.
"They realize that there's an opportunity to put an investment into their home they're going to get back out again, similar to closet organization."